Nerding out, Count style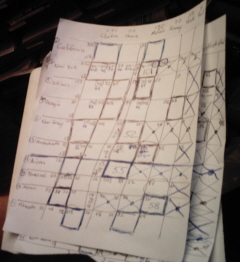 Super Tuesday is wrapping up and the Count just can't stop counting. I tried to get a photograph of him doing his math and what have you, but he kept goofing around. Instead, I took a photo of the stack of notes he's making so you could get a glimpse into his world.
Early in our relationship he told me, "My favorite math is probability."
My favorite nerd is Scott.
Interesting aside: Margaret named Scott the Count before she even knew he had a favorite math. She sure does know how to assign a nickname.